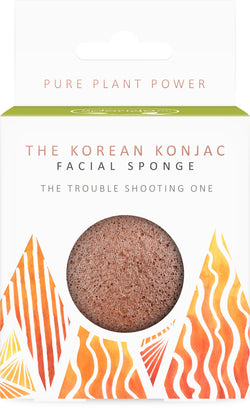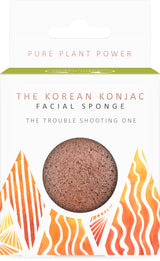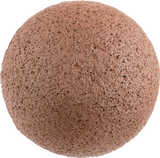 The Elements Fire - Purifying Volcanic Scoria Facial Sponge
FIRE:  The Konjac Sponge Co® Jeju Scoria Sponge
The Trouble Shooting One
Our new Korean Jeju Scoria and organic Konjac sponge is just perfect for deeply cleansing and rejuvenating tired skin; especially problematic oily tired skin. So, show your skin some "lava"!
The volcanic region of Jeju island in South Korea produces the most amazing mineral-rich, naturally antibacterial volcanic scoria. 
This rock is created from the magma ejected by the volcano, during its eruption. The health benefits of the scoria have long since been utilised by humans, due to the rocks ability to absorb oil and impurities. Packed with this kind yet dirt absorbing goodness, our Scoria Sponge is going to be our "hottest" new addition to the range!  
Supplied in plastic free packaging - a cardboard box with a cellulose biodegradable and compostable or recyclable plastic free window.
Suitable for oily skin.
Certified Vegan & Cruelty Free
Cleanses & exfoliates the delicate eye area
100% natural plant fibre
Use with or without cleanser
100% colouring & additive-free
Made in South Korea on the island of Jeju
The world's no.1 Korean Konjac Sponge brand
Before use, rinse and hydrate your Konjac Sponge in warm water. Squeeze out any excess water and gently cleanse skin. It is not necessary to use cleansing products, but a small amount can be added to your Konjac Sponge if desired. If a cleanser is added, the sponge will help the product work harder and go further.
After use, always rinse your sponge well and allow to dry in an airy place. Be careful not to wring it out as this may damage the delicate plant fibres, just squeeze between your flattened hands. You can also pop your clean sponge in the fridge to keep it fresh and cool, which helps it last even longer. Alternatively, your sponge is happy to be aired on a radiator or heated towel rail. It will shrink and harden when it dries out, this is perfectly natural, simply allow it to absorb water and rehydrate before using again. Never use the sponge when dry. The better care of the sponge, the longer it will last. Never leave the sponge in the shower or in a pool of water. Your Konjac Sponge is a 100% natural vegetable product and should last 1 to 3 months. Once it starts to look tired or breaks down, replace it. Our Konjac Sponges can be safely composted or used in the garden to help water your plants by holding moisture. Never leave a child unattended with a sponge.