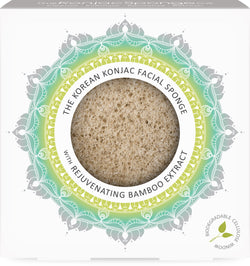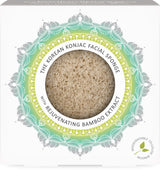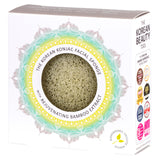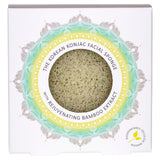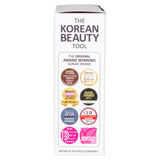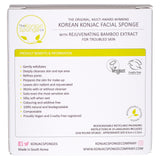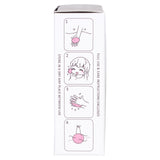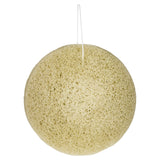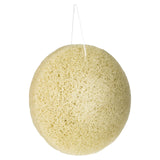 The Mandala Bamboo Extract Face Sponge
The Mandala is symbolic for the circle of life - So perfectly complementing the purest konjac sponge, whose konjac root and ingredients, evolves from the ground, bring its purity and goodness to support your own healthy daily skincare routine. After the sponge's life is spent, it can return to the ground, in its biodegradable form. The packaging is completely biodegradable too.

A new addition to the Konjac Sponge Co family; Bamboo Extract. Not to be confused with our most popular Bamboo Charcoal, this time we bring you an entirely new product. Konjac combined with Bamboo Extract. Yes, the sustainable plant that grows super fast and just keeps on giving! Bamboo Extract (Silica) is known to be naturally antioxidant-rich, skin plumping and collagen boosting.

The rejuvenating, anti-ageing and collagen-boosting properties of Bamboo extract could not escape our attention!  Being rich in Silica; a mineral used throughout beauty product for health and vitality. Bamboo extract is said to help delay ageing by fighting the development of wrinkles. The mineral content of this extract triggers the production of collagen. Bamboo extract is used to make skin look smoother, firmer and plumper which is why it is such a popular ingredient in Asian skincare products especially moisturising creams and masks. It made sense to pop this into our award-winning Konjac Sponge range!

Our Latest Shaped Sponge. A new slim round shape, flatter surface for a great cleansing experience. The sponge has a disc shape and is approximately 8cm diameter and approx 2.5 cm deep. String on the sponge allows you to hang to dry between use.

Bamboo extract is rich in Silica, a mineral used throughout beauty product for health and vitality. Bamboo extract is said to help delay ageing by fighting the development of wrinkles. The mineral content of this extract triggers the production of collagen. Bamboo extract is used to make skin look smoother, firmer and plumper which is why it is such a popular ingredient in Asian skincare products especially moisturising creams and masks.

Supplied in plastic-free packaging - a cardboard box with a cellulose biodegradable and compostable or recyclable plastic-free window.

•  Gently Exfoliates
•  Deeply Cleanses Skin and Eye Area
•  Refines Pores
•  Ideal for easily irritated, hypersensitive skin
•  Prepares the skin for make-up
•  Leaves skin radiant and rejuvenated
•  Works with or without cleanser
•  Suits even the most sensitive skin
•  Silky soft when wet
•  Colouring and additive-free
•  100% natural and biodegradable
•  Certified Vegan & Cruelty-Free
The rejuvenating, anti-ageing and collagen-boosting properties of Bamboo extract could not escape our attention!  Being rich in Silica; a mineral used throughout beauty product for health and vitality. Bamboo extract is said to help delay ageing by fighting the development of wrinkles. The mineral content of this extract triggers the production of collagen. Bamboo extract is used to make skin look smoother, firmer and plumper which is why it is such a popular ingredient in Asian skincare products especially moisturising creams and masks.
Its also a multi-tasker, as Bamboo also has incredible healing properties. It contains methanol, a powerful healing agent that cleanses and promotes healing of the skin too.
Bamboo contains 70% natural silica, an organic compound that is essential for the body and works to keep your skin looking healthy, supple and radiant.
Bamboo extract is also
 packed with other essential compounds
 such as antioxidant rich amino acids and flavonoids used to protect the skin.
Bamboo Extract Used in Beauty Products For:
Fortifying the skin
Treating acne
Delaying signs of ageing
Natural antibacterial properties
Its rejuvenating powerhouse properties- being anti-microbial, anti-aging, antioxidant and anti-inflammatory
People with acne, dark spots, red spots, and inflamed skin who have been seeing the benefits of bamboo extracts, since the asian market introduced us to bamboo in beauty.
Of course bamboo is also highly sustainable as it grows so fast too. 
Before use, rinse and hydrate your Konjac Sponge in warm water. Squeeze out any excess water and gently cleanse skin. It is not necessary to use cleansing products, but a small amount can be added to your Konjac Sponge if desired. If a cleanser is added, the sponge will help the product work harder and go further.
After use, always rinse your sponge well and allow to dry in an airy place. Be careful not to wring it out as this may damage the delicate plant fibres, just squeeze between your flattened hands. You can also pop your clean sponge in the fridge to keep it fresh and cool, which helps it last even longer. Alternatively, your sponge is happy to be aired on a radiator or heated towel rail. It will shrink and harden when it dries out, this is perfectly natural, simply allow it to absorb water and rehydrate before using again. Never use the sponge when dry. The better care of the sponge, the longer it will last. Never leave the sponge in the shower or in a pool of water. Your Konjac Sponge is a 100% natural vegetable product and should last 1 to 3 months. Once it starts to look tired or breaks down, replace it. Our Konjac Sponges can be safely composted or used in the garden to help water your plants by holding moisture. Never leave a child unattended with a sponge.