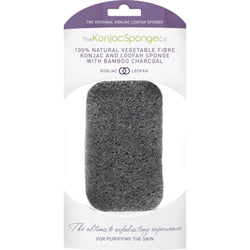 Konjac Loofah Medley Body Sponge With Bamboo Charcoal
Konjac is natures answer to powerful and effective skin cleansing. The loofah plant is an exfoliating king. Combine these two wonder plants together and the result is our Konjac Loofah Body Sponge! Kinder than a loofah but tougher than our Konjac Sponges, this sponge is just right.
But, the benefits do not stop there; we have added a good measure of naturally antibacterial charcoal powder to target oily and spot prone skin. This body sponge is made for those who feel their skin could use a slightly deeper exfoliation whilst absorbing excess oils that build up in open pores.
At approximately 13.5cm wide, this Konjac Loofah is ideal for use in the bath or shower. Just add water for an intense exfoliation.

100% natural vegetable fibre
pH balancing
Certified Vegan & Cruelty Free
Kind to your skin & the environment
Silky soft when wet
Refines pores
Leaves skin invigorated
Naturally antibacterial & has odour absorbing properties
Konjac is nature's enriching and effective answer to luxury skin cleansing. The loofah plant is an exfoliating king. We have combined the goodness of Konjac with the power of loofah, for an incredibly deep cleansing and exfoliating experience. Kinder than a loofah but tougher than our Konjac Sponges, our Konjac loofah medley offers great results on skin that requires a deeper exfoliation.
The added bamboo charcoal powder helps draw out excess oils, eliminate odours and is naturally antibacterial.
Before use, rinse and hydrate your Konjac Sponge in warm water. Squeeze out any excess water and gently cleanse skin. It is not necessary to use cleansing products, but a small amount can be added to your Konjac Sponge if desired. If a cleanser is added, the sponge will help the product work harder and go further.
After use, always rinse your sponge well and allow to dry in an airy place. Be careful not to wring it out as this may damage the delicate plant fibres, just squeeze between your flattened hands. You can also pop your clean sponge in the fridge to keep it fresh and cool, which helps it last even longer. Alternatively, your sponge is happy to be aired on a radiator or heated towel rail. It will shrink and harden when it dries out, this is perfectly natural, simply allow it to absorb water and rehydrate before using again. Never use the sponge when dry. The better care of the sponge, the longer it will last. Never leave the sponge in the shower or in a pool of water. Your Konjac Sponge is a 100% natural vegetable product and should last 1 to 3 months. Once it starts to look tired or breaks down, replace it. Our Konjac Sponges can be safely composted or used in the garden to help water your plants by holding moisture. Never leave a child unattended with a sponge.