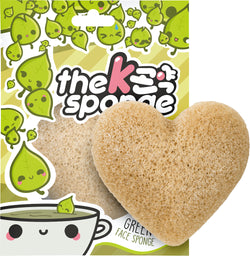 The K Sponge Green Tea and Konjac Heart
The K-Sponge is our newest product with the most adorable packaging yet.
Protect, refresh and take a dip into the fountain of youth with this green tea infused K-Sponge heart.
This is the sweetest of green tea sponges - a Konjac heart for the perfect cleanse. It is the ideal sponge for a beauty novice learning to master skincare.
Here is the secret to youthful skin. The K-Sponge has been laced with must-have Korean Beauty ingredient, Green Tea. Its health benefits are endless, but it can also work wonders on the skin, battling wild weather irritation and keeping skin naturally hydrated. This antioxidant-rich and anti-aging addition helps calm and soften the skin for a fresh, revitalised complexion. Don't worry about its tough exterior on arrival, once soaked in water it becomes soft like jelly with a secret power for giving a deep exfoliation.
K-Sponge says RELAX - de-stress your over-sensitive skin
Pamper and protect weather-beaten skin with antioxidant-filled Green Tea
Balance that pH!
Treat yourself to an intense cleanse everyday
Use the heart's smooth, curvy corners to get right into the awkward eye area – no tears here
Purify those pores
Mix it up – use your K-Sponge with or without cleanser for the same revitalised result
Just be real with your skin. It's 100% natural, Vegan, Cruelty Free, and contains ZERO colouring or additives. Absolutely no chemicals are used in the making of our products
Once introduced as limited edition, the Konjac Facial Sponge with Green Tea sponge proved to be in such high demand that we had to make it a permanent part of our Konjac collection. Green tea itself has become an incredibly sought-after ingredient in the beauty industry as it is recognised for its many skincare benefits. From being naturally rich in antioxidants to protecting the skin from ageing, this ingredient actively promotes a healthy, youthful skin tone.